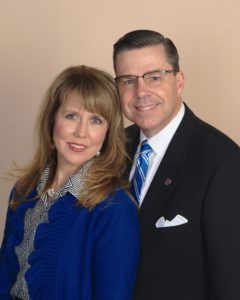 Brother Caudill and Mrs. Caudill's testimony of salvation is much alike. Both were raised in Christian Homes in the foothills of North Carolina where every Sunday meant church. Both were blessed with dedicated Christian parents who took them to church every Sunday and Wednesday, not to mention all the revival meetings and special meetings in between.
Brother Caudill was saved in June of 1974 at the Mountain View Baptist Church of Mountain View, North Carolina as an eight-year-old boy. Cassie was saved on Easter Sunday at the Island Ford Baptist Church of Jonesville, North Carolina in the year of 1978 as an eight-year-old girl as well. They were married February 24, 1990 while Brother Caudill was serving in the United States Navy.
Having responded to the call of God on his life to preach the Gospel, Brother Caudill started attending the Tabernacle Baptist Bible College of Virginia Beach Virginia. He was licensed June 25, 1989 and ordained to preach the Gospel November 24 of the following year. After his discharge from the Navy and while continuing to work on his ministerial degree, Brother Caudill went on to pastor three different Independent Baptist Churches during the course of the next 21 years. He has served as the General Director of Macedonia World Baptist Missions of Braselton, Georgia since May of 2014. Prior to this, he served on the Executive Board of MWBM for 15 years.
Dr. Caudill has a heart and a passion for world missions. It is his great privilege to assist missionaries around the world in their church planting efforts to reach the world with the Gospel of Christ. Dr. Caudill would welcome the opportunity to assist any missionary or local church in their evangelistic outreach. He is available for Missions Conferences, Missions Sundays, Revivals, special Sundays, or any other occasion where the Lord may open the door. He and Mrs. Caudill currently reside in the mountains of Northeast, Georgia.