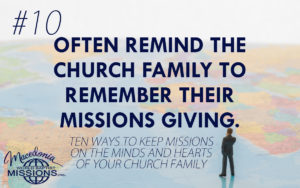 Every time you receive an offering at church remind the church family to not forget about their missions giving. Every time we received an offering (unless it was for a designated need) I would take the opportunity to remind the church family not to forget about their missions offering over and above their regular tithes and other offerings. I would remind them weekly that our missionaries were counting on us to be faithful.
Again, these are just 10 ideas that worked for me during the course of the years that I pastored. I trust as you look ahead to a brand new year, they will be of some help to you and your church.
Thanks so much for your desire to reach others with the Gospel. What a blessing to labor alongside of you for the Gospel's sake.